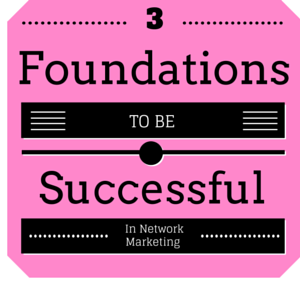 Hey y'all,
Having been in a rough journey in networking marketing for so long, I came up with these 3 things that helped me sort through on how to be successful in the networking business. If you are just starting or just looking into joining the networking marketing business, these might save you some time and money.
Company
Does the company's products and services fill the NEED of your target market in mind?
Research a company with products and services that people need based on your target market in mind. It is easier to share with people when the products sell by themselves and therefore we don't have to SELL but SHARE. Check a company with a good track record. As we all know, everyone can write anything about everything on line. However, research the company using reliable resources like Direct Selling Association, Better Business Bureau, Alexa or other metrics you can use online.
Your Support System
Do you have a good support from your family and friends? More often than not, they are the first ones who are negative about you getting involved in Network Marketing. They will not be on board with you until they see results. The very 'thing' that we feel we don't want to bug our family and friends.
In this case, find a mentor who can guide you through the process. Find a great team within the company you have chosen.  I am lucky enough to find great people in network marketing. Use your judgement and find people who you can resonate with.
YOU
Do you have the right mindset and attitude to take this entrepreneurial journey?
You are the most valuable asset you can have to be successful in network marketing. It is your mindset and work ethics that will drive your success.
In summary, you may have found a great company with great products, great team, excellent compensation and track record,  but it is YOU who will ultimately do the work and the brain of your business to make it successful and take your life to the next level,  without bugging friends and family.
These 3 things are, in my opinion, are good foundations to be successful if you are thinking about going into Network marketing. Hope you find it interesting and helpful. Let me hear your thoughts.
If you can resonate with this blog or find value, I appreciate you sharing and spreading the love! Let's connect and share some ideas.
To your success,
Jovita Routzong
Skype: jroutzong
Email: coachjovita@jovitaroutzong.com
P.S.
IF you are already a network marketer and  if recruiting and selling is something you dread doing, check out this 10 day bootcamp. It will especially help you,  if you want to sign up more customers and teammates as your only way to make money… without bugging your family and friends. This is the same 10 day bootcamp that has worked  and I am incorporating in my business.