The day called 'Thanksgiving'
Every fourth Thursday of November of every year, Americans gather for a day of feasting, football and family.
While today's Thanksgiving celebrations would likely be unrecognizable to attendees of the original 1621 harvest meal, it continues to be a day for Americans to come together around the table—albeit with some updates to pilgrim's menu.
(Reference: http://www.history.com/topics/thanksgiving)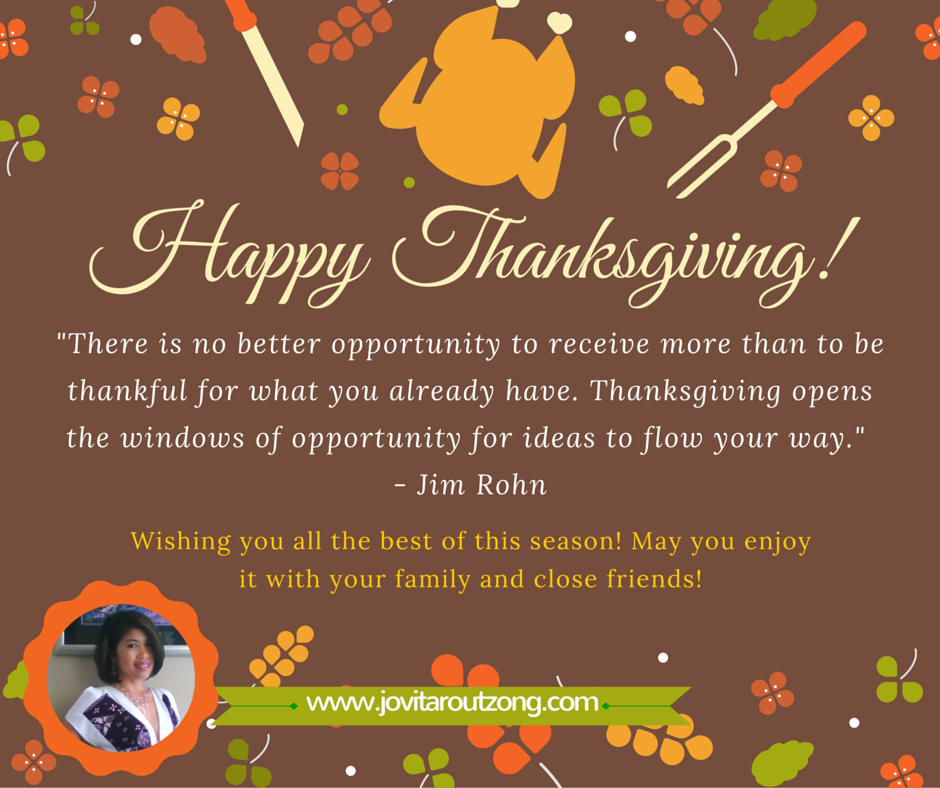 What are you thankful or grateful for? 
As I reflect to this holiday, naturally, most people tend to be grateful for the positive things in life such as having a great family and friends, having a job, and fulfilling essential needs and so on. Those things are all good and well as they make us feel comfortable.
On the contrary, I think we must also be grateful for things that make us feel uncomfortable.
All the challenges we face as we live our lives are the factors why we become smarter, stronger, and more successful because of the lessons we learned from them. 
Life events and situations like divorce, death of a loved one, losing a job, a catastrophe, some kind of physical inability and sickness, and the like give us another perspective in life on how we must deal with our lives moving forward. 
With what is going on this world today, such as the chaos of terrorism and natural disaster, give us some things to think about on how we can cope and/or survive when we experience them.
Even the rapid changes in technology allow us to adopt to it. 
We now do some things effectively and efficiently but some not so.
But rarely we reflect on how it changed our lives over time. 
When do you feel thankful?
To me, this question answers to one thing. Having the POSITIVE feeling from being uncomfortable. 
When we feel comfortable, feeling good on a certain day. 
When we release a sigh of relief.
When we pass a test of some kind.
I can go on and on.
But in the end, wherever we are in the world, whether we celebrate Thanksgiving or not, every day must be  a day of gratitude.
A deeply felt gratitude to have been given the opportunity to experience LIFE – a universal thing in all humanity.
Hope you feel connected and able to relate to what I had just laid out here. Some  of you may agree or disagree.
At Thanksgiving – What Are You Thankful For? Let me hear yours! 
Let's connect.
Wishing you and your family a safe and wonderful Thanksgiving! 
Blessings be with you,

Entrepreneur/Founder, Business Owner/Coach at Jovita T. Routzong
Skype: jroutzong
Email: coachjovita@jovitaroutzong.com
P.S.
If you want to make massive changes in your life, I highly recommend to check this out, click here.
Say no to being broke!